Opening hours
On the last Friday of every month, the library is closed for a clean-up day.
You can return books to the return box in front of the library entrance
---
Registration
TTK UAS students, lecturers, employees and Erasmus exchange students can register as a library user via web or in the library. For online registration, a valid Estonian ID-card, Mobile-ID certificates or Smart-ID are required.
Identity document is necessary to borrow books and journals.
Loan periods
| | |
| --- | --- |
| Books | 30 days, possible to renew |
| Books with a red marking | for library use only |
| Journals | 30 days |
You can renew the due dates via My ESTER, in the library, by phone or by e-mail.
Due dates are not renewed and new items are not lent, if the due date has been overrun or the item has been reserved by another user.
Lost/stolen or damaged books
If you have damaged or lost library materials inform library as soon as possible.
You will have to compensate the loss by replacing item with an equivalent item or item suggested by library.
Access only in TTK UAS network. Remote access is available outside the university computer network too. See the manual in Moodle -> Remote access guide to e-resources (Choose – Enrol me)
Cambridge Core
Cambridge Core is the home of academic content from Cambridge University Press and it brings together full-text articles from peer-reviewed academic journals in engineering, social sciences and the humanities.

In addition to reading e-journals, you can also publish scientific papers free of charge. For international publications, the author must be the corresponding author.
EBSCOhost


Premium information resources (includes full-text books and journals). Ask for username and password from library.
Library recommends collections: Academic Search Complete, EBSCO Business Source Complete, ERIC (Education Resources Information Center).
Ask for username and password from library.
Estonian Centre for Standardisation and accreditation


Accessible only in TTK UAS Network with password and username.
Oxford Academic Journals (e-journals)
The database contains e-journals of science, medicine, social sciences, humanities and natural sciences. You can search on the homepage for relevant information by topic or find important information in a complete list of journals from A to Z.

An overview of the journals is open on the main page of the database:

Journals A to Z
ProQuest Ebook Central Academic Complete Collection


Provides authoritative ebooks in a range of subjects from the world's top publishers.
For access from outside the TTK UAS Network look for the button Request an Account. The account will be verified within one workday.
ScienceDirect


The ScienceDirect database contains e-journals in the fields of engineering, natural sciences, medicine, social science and humanities.

You can find out about the areas here:


Physical Sciences and Engineering




Life Sciences




Health Sciences




Social Sciences and Humanities
Scopus


The multidisciplinary abstract and citation database of peer-reviewed information is suitable for all researchers and students all over the world.
Taylor & Francis Online


High-quality peer-reviewed e-journals from leading experts in science, technology, humanities and social sciences. The database includes the latest research as well as research from more than 200 years ago that is still relevant today.
| | | |
| --- | --- | --- |
| A+U Architecture and Urbanism | 12 x per year | |
| Arkkitehti | 6 x per year | + online access |
| Betoni | 4 x per year | + online access |
| Burda : World of Fashion | 12 x per year | |
| El Croquis | 5 x per year | |
| Next Look Woman | 2 x per year | |
| Puu = Wood = Holz = Bois | 2 x per year | + online access |
| Textile View Magazine (View) | 4 x per year | |
| The Architectural Review | 12 x per year | |
| Topos | 4 x per year | |
Go to ee.printincity.com and sign up;
generate in account settings Print in City PIN code;
upload PDF file to your print account;
purchase some printing credits by clicking on account balance and payment
choose settings (Colored or Black and White, one-sided etc);
choose printpoint: Tallinna Tehnikakõrgkool;
to retrieve your prints enter your generated PIN code to printer and press "Prindi kõik" on the display.
printers are in Library and in Institute of Architecture
The Study Rooms can be used by TTK UAS members during library opening hours.
To see free times select in study information system TAHVEL:
Timetable => Rooms
For room reservation fill out the FORM.
It is recommended to reserve public study rooms KLAAS and KELL at least 1 day in advance.
Study Room ZEN, 4 seats + 1 computer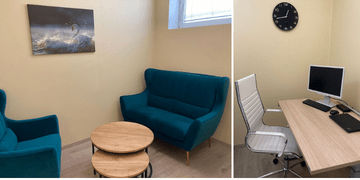 Study Room KLAAS (glass), 9 seats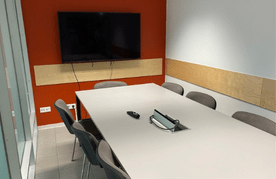 Study Room KELL (clock), 7 seatts